Pasen,
Perenhout, de natuur op tafel
Om echt een statement te maken met Pasen heb je iets opvallends nodig voor op de paastafel. Met bijvoorbeeld een krans of planter van perenhout, gevuld met gele bloemen, mossen, groen Ruscus en kwarteleitjes, haal je direct de natuur aan tafel! Een decoratie-groen-stuk op tafel geeft toch dat beetje extra sfeer aan de feestdagen.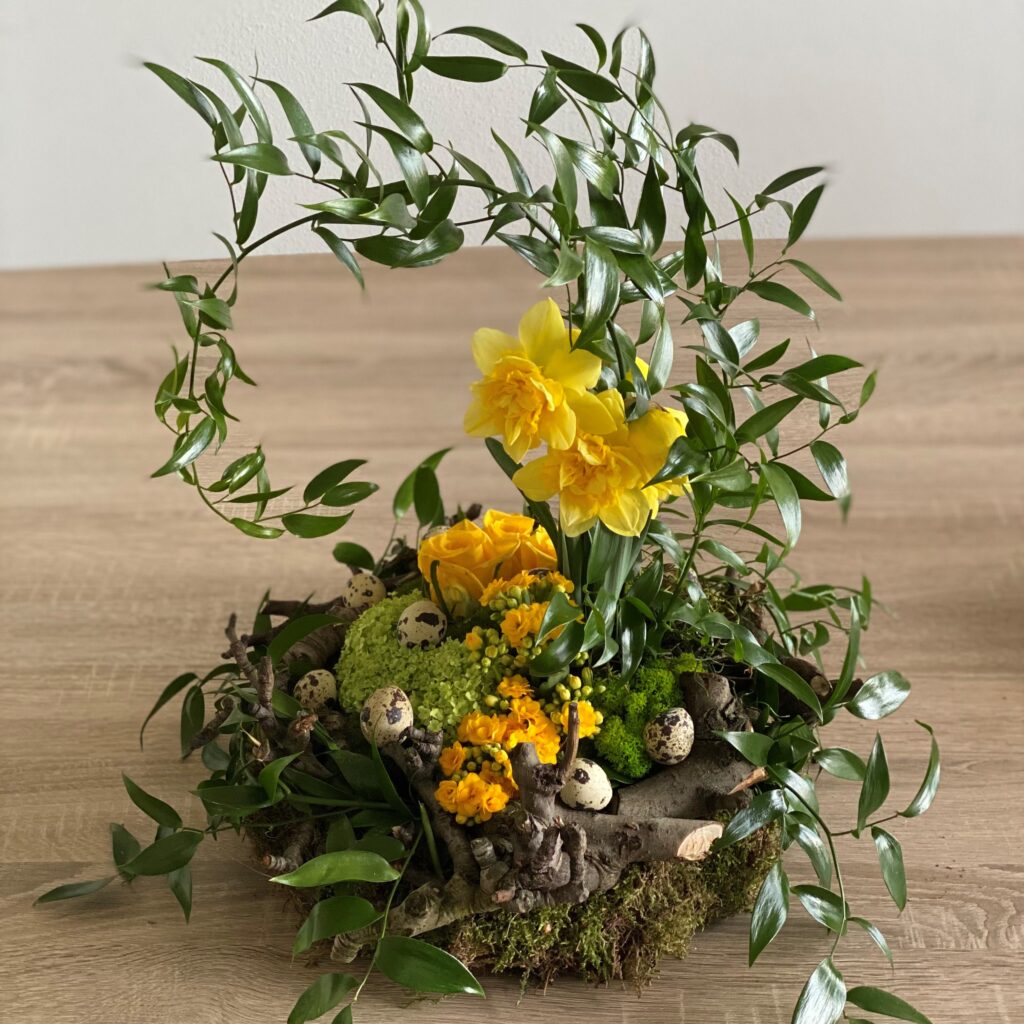 Planter van perenhout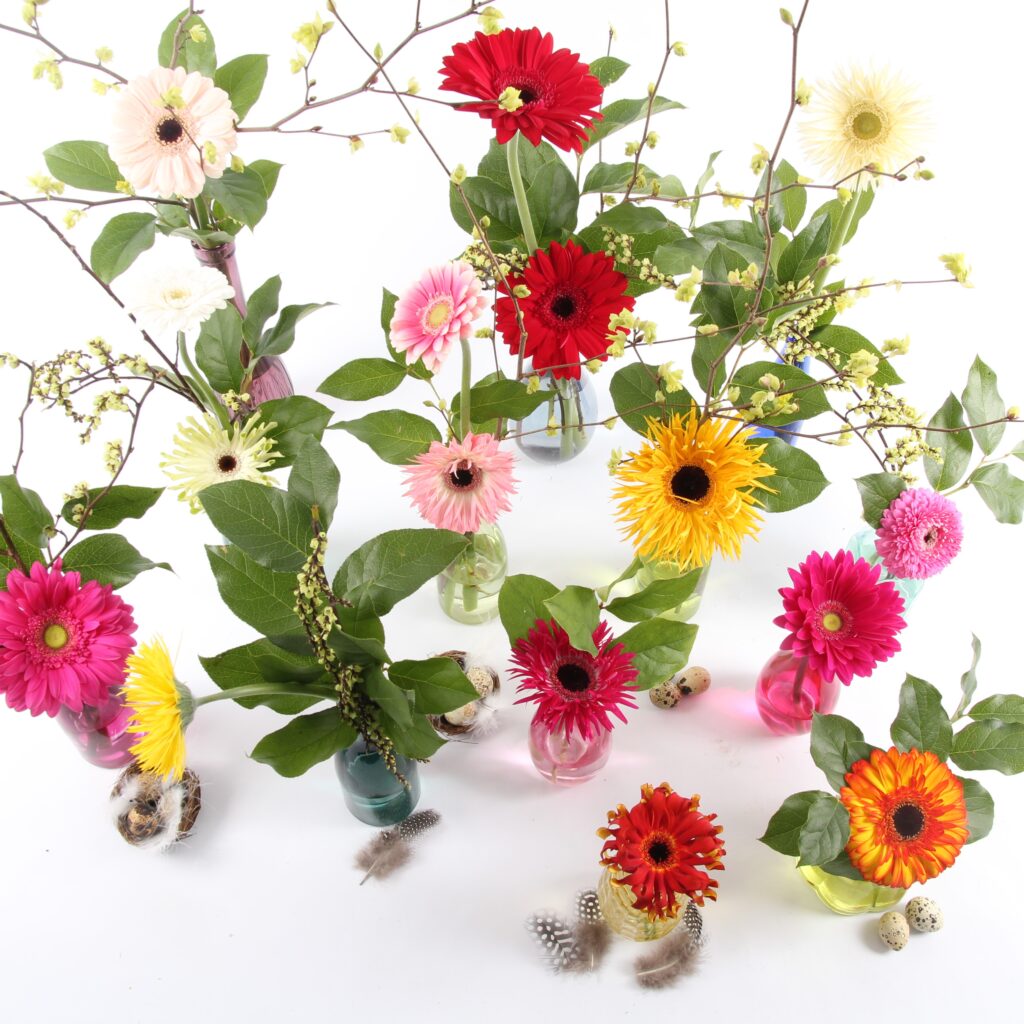 Een heerlijke

paaslunch
De tafel is gedekt, de bloemen staan op tafel en het eerste gerecht staat in de oven. Tijd om de spreekwoordelijke puntjes op de i te zetten. Een prachtig opgemaakte tafel waarbij je een heleboel verschillende vaasjes vult met kleurrijke bloemen, een paar takjes Salal en voorjaarstakken, maakt het helemaal af. Deze vaasjes brengen een kleurrijke sfeer met zich mee tijdens de paaslunch.
Pasen in

Nederland
Het is weer tijd voor Pasen! Hoewel een reisje naar het buitenland, noch een groots Paasdiner met familie er dit jaar niet in zat, inspireren we je toch graag met je Paas-styling. Zo wordt het alsnog een onvergetelijk feestje en kunnen we toch dat lente gevoel in huis halen.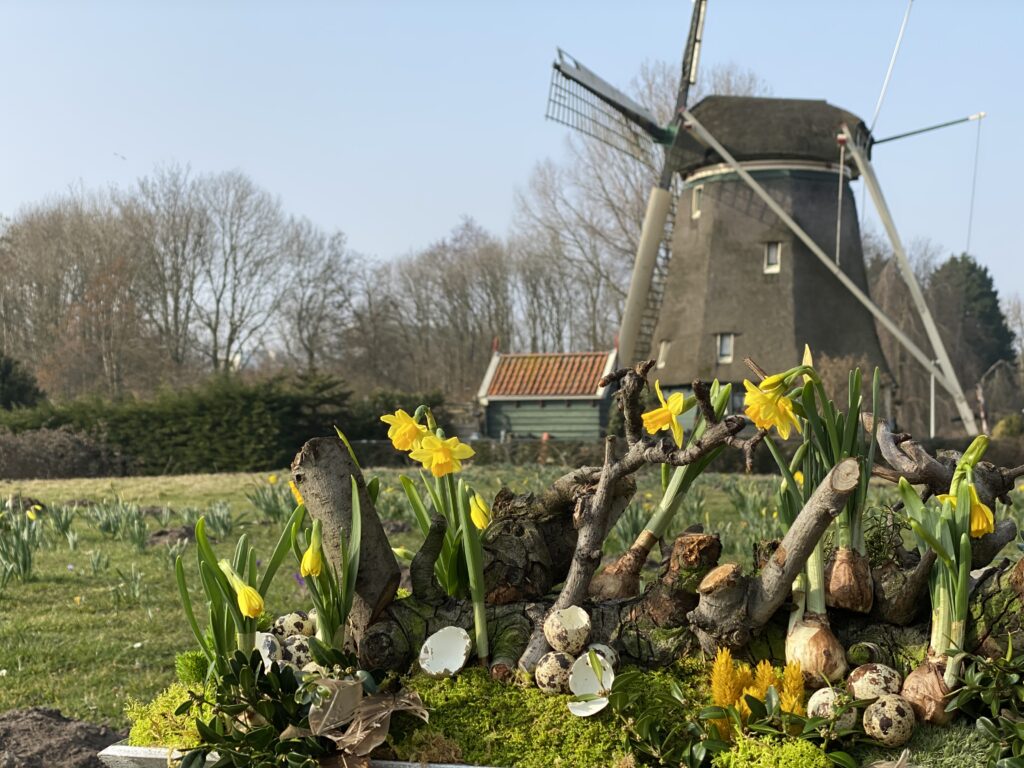 Green Inspiration Pasen
GROEN maakt Pasen af. Als aankleding op je Paastafel (binnen of buiten) verras je je gasten met weelderig gevulde boomstammen of perenhouten kransen vol typische lentebloemen. Zorg voor hoogteverschillen met bijvoorbeeld bolmos, en maak het af met paas-decoratie zoals kwarteleitjes of
gebroken eierschalen.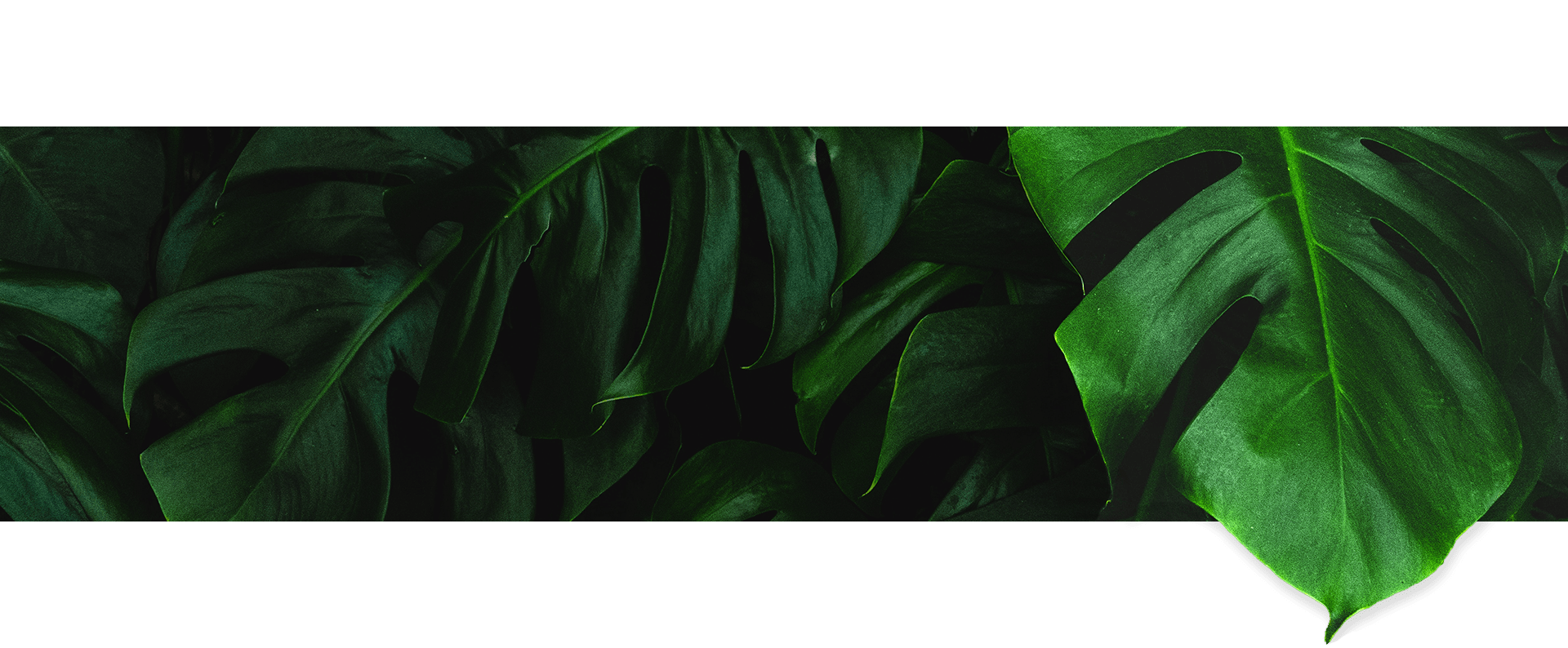 Bezoek
de

ADOMEX

webshop
Vind een groot en divers assortiment van prachtig groen
Adomex biedt naast snij- en decoratiegroen ook droogbloemen, gepreserveerde en geverfde producten en natuurlijke decoratie artikelen
De webshop werkt op alle toestellen en kent handige gebruiksmogelijkheden
Word klant om ook te kunnen kopen
Bent u al klant dan kunt u automatische inloggen en starten met kopen
Heeft u nog geen inloggegevens? Dan kunt u ook onze webshop bekijken als bezoeker
Webshop