Kaaps groen,
Verzamelnaam voor inheemse flora die groeit in de
Kaapse bloemenregio
Soorten: Albiflora green, Baubles, brunia silver & red, platystars, tortum, plumosum & mix bossen
Lengte: 40 tot 50 cm
Land van oorsprong: Zuid-Afrika
Beschikbaarheid: het meeste Kaaps Groen is jaarrond verkrijgbaar, maar de grootste verscheidenheid is geconcentreerd van september tot december.

The story of
Kaaps groen wordt in de sierteeltindustrie gebruikt voor een groep 'Fynbos' die als snijbloem wordt gebruikt en wordt geoogst in de 'wilde bergen'.

Fynbos is de algemene term voor alle inheemse flora die groeit in de Kaapse Bloemenregio in Zuid-Afrika, inclusief protea, leucadendron, albiflora, berzelia, leucospermum etc.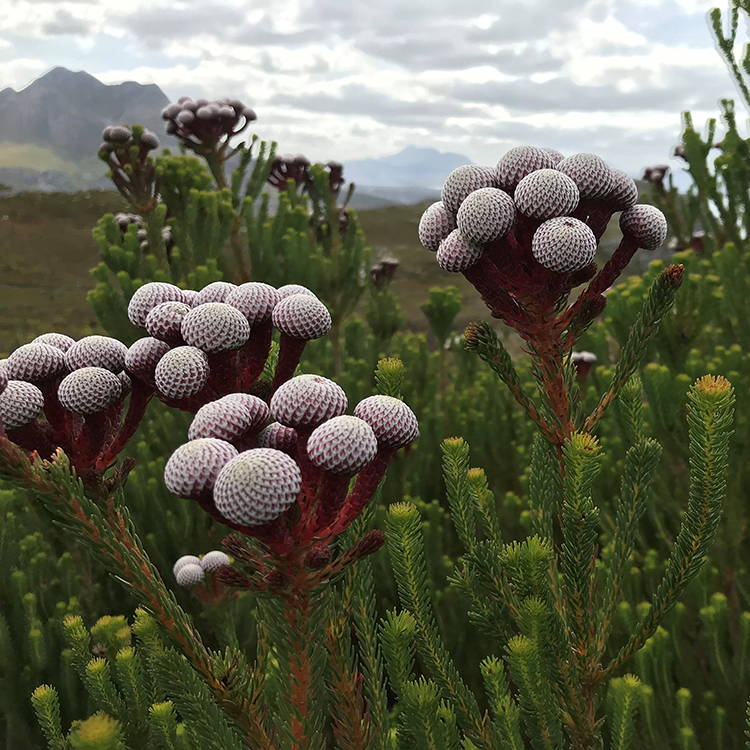 Kaaps Groen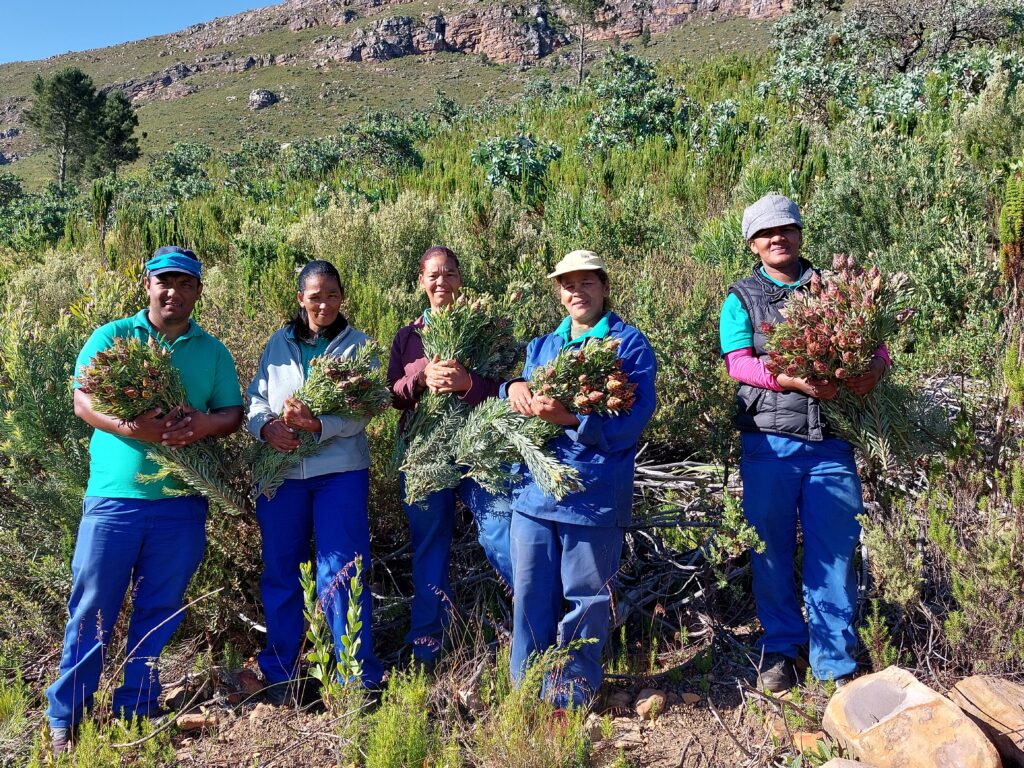 Waar groeit Kaaps Groen?
De meeste Kaaps Groen groeit en wordt geoogst in het wild. Vanwege de hoge teeltkosten wordt er niet op boerderijen geteeld. Het nadeel hiervan is dat tijdens de droge zomermaanden bosbranden een bedreiging kunnen vormen en enorme gebieden met fynbos kunnen vernietigen. De vegetatie groeit wel weer aan, maar het duurt 4 tot 8 jaar voordat er weer geoogst kan worden. Dit heeft een negatief effect op het aanbod. Het is ook heel moeilijk voor de mensen die hun geld verdienen met wat ze plukken uit deze gebieden.
Kaapse Bloemenregio
De Kaapse Bloemenregio strekt zich uit van het Kaaps schiereiland tot Oost-Kaap en is ongeëvenaard op het gebied van flower power.

Aan oppervlakte is het goed voor minder dan 0,5% van het Afrikaanse continent, toch bezit de Kaapse Bloemenregio een verbazingwekkende 20% van zijn flora, waarvan het grootste deel inheems is in deze specifieke regio.

De overvloed aan planten in de Kaapse Bloemenregio heeft Zuid-Afrika met trots een plaats opgeleverd tussen de best beoordeelde locaties ter wereld voor biodiversiteit. Veel van dit rijke, natuurlijke erfgoed is nergens anders op aarde te zien. Met een oppervlakte van ruim 90.000 km2 wordt geschat dat elke 1000 km2 van dit bloemenrijk maar liefst 465 verschillende soorten bevat.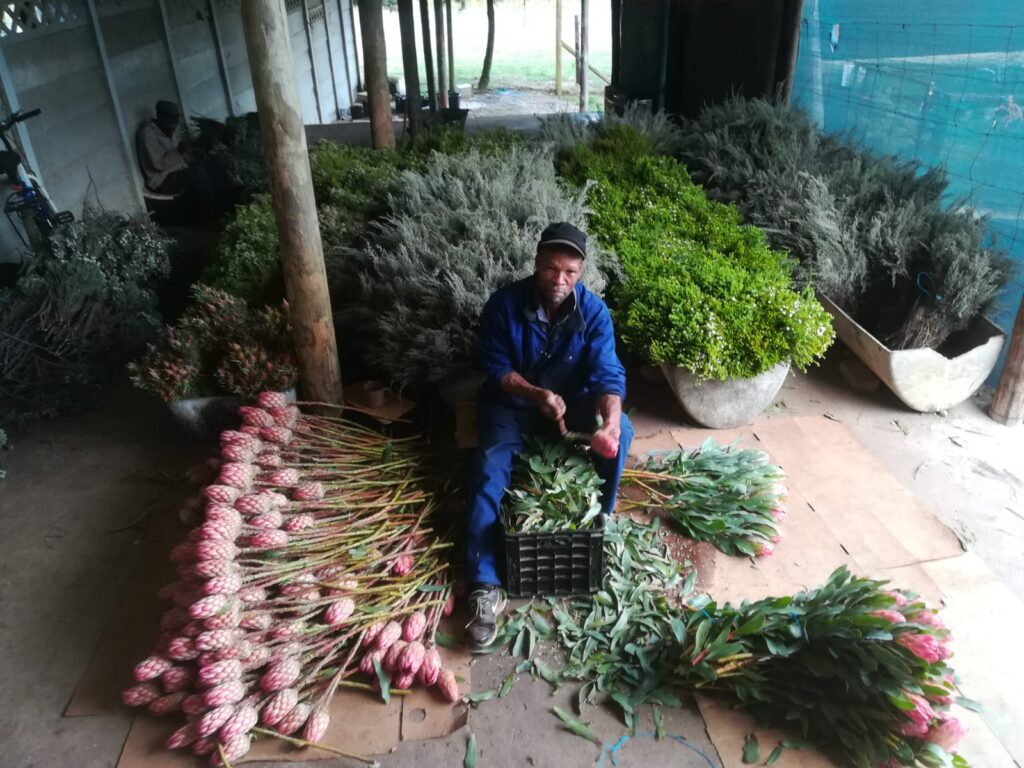 Green Inspiration
Deze Kaaps groen variëteiten zijn uitermate geschikt voor kerstboeketten. Leucadendron Tortum is bijvoorbeeld verkrijgbaar in zilverkleur en ook in rood, en de knoppen van Brunia Silver lijken weer erg veel op sneeuwvlokjes.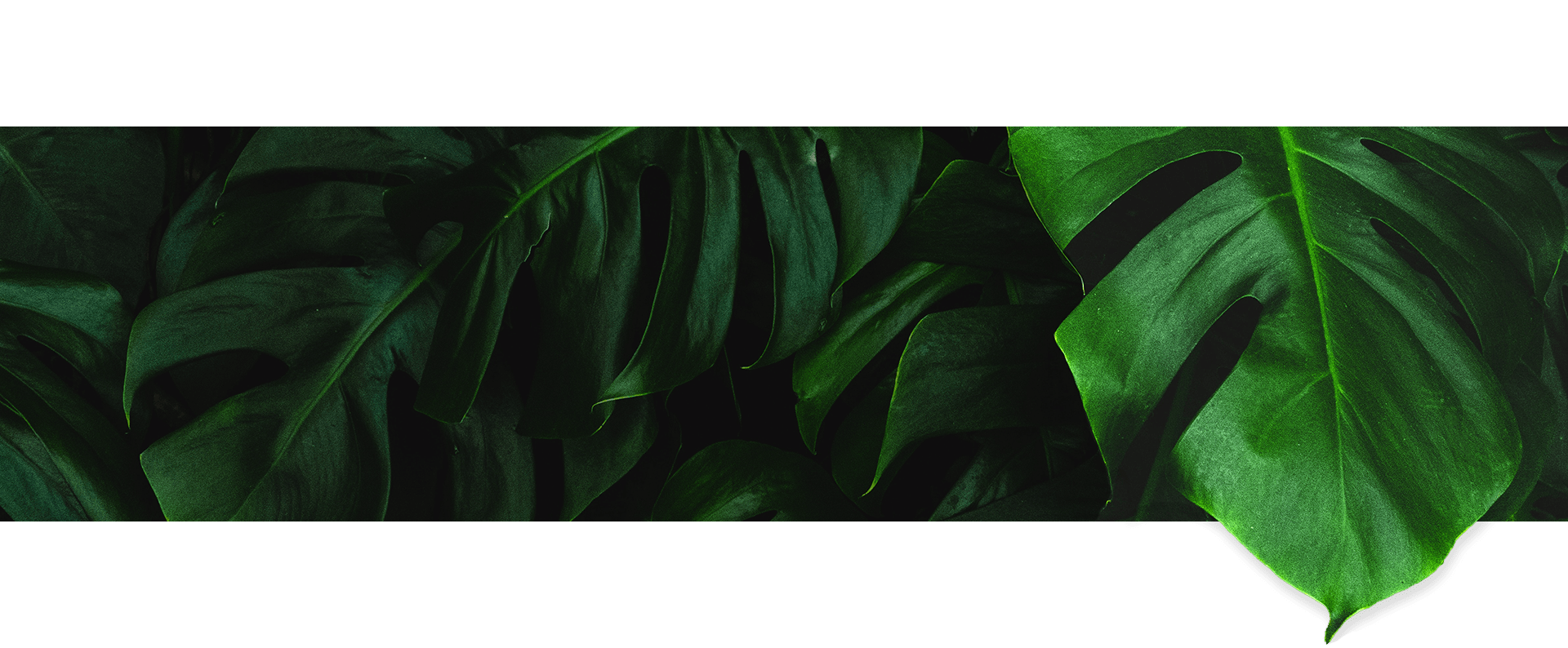 Bezoek
de

ADOMEX

webshop
Vind een groot en divers assortiment van prachtig groen
Adomex biedt naast snij- en decoratiegroen ook droogbloemen, gepreserveerde en geverfde producten en natuurlijke decoratie artikelen
De webshop werkt op alle toestellen en kent handige gebruiksmogelijkheden
Word klant om ook te kunnen kopen
Bent u al klant dan kunt u automatische inloggen en starten met kopen
Heeft u nog geen inloggegevens? Dan kunt u ook onze webshop bekijken als bezoeker
Webshop