Get a head start on a new, fresh green year
Meet the Orca Green Brand
with these wonderful foliage options to enhance any arrangements.
Adomex's top greens brand is a must-have for floral professionals looking for dependability and quality. For a fresh, green start to a brand new year, the Orca Green brand is here to show you what these greens are and why they have become a staple piece in bouquets.
Foliage conquering the greens market? It's an absolute yes! With the passing of every day and every year, greens slowly but very surely have taken a large piece of the market, with thousands of florists and designers around the world opting to implement them in their amusing creations.
Why? You're about to find out why there's an Orca Green in every florist and how Adomex is beautifying every bouquet with its greens whether it be a complete bouquet filled with foliage or used to accompany other flowers as well. Either way, the Orca Green brand is a definite yes and will be an 'all in trend' during the coming years.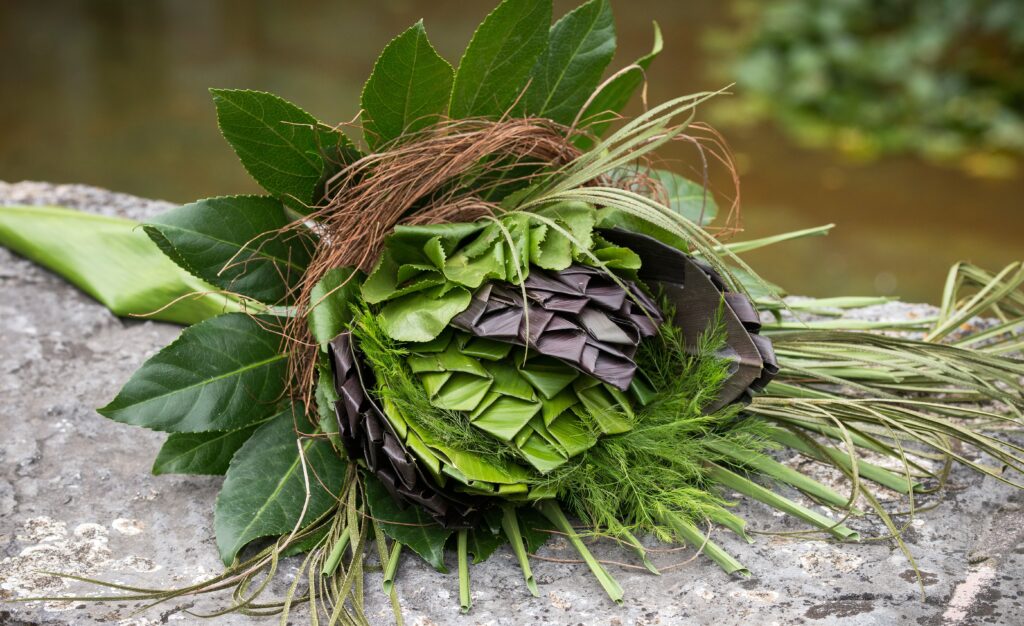 Statement Greenery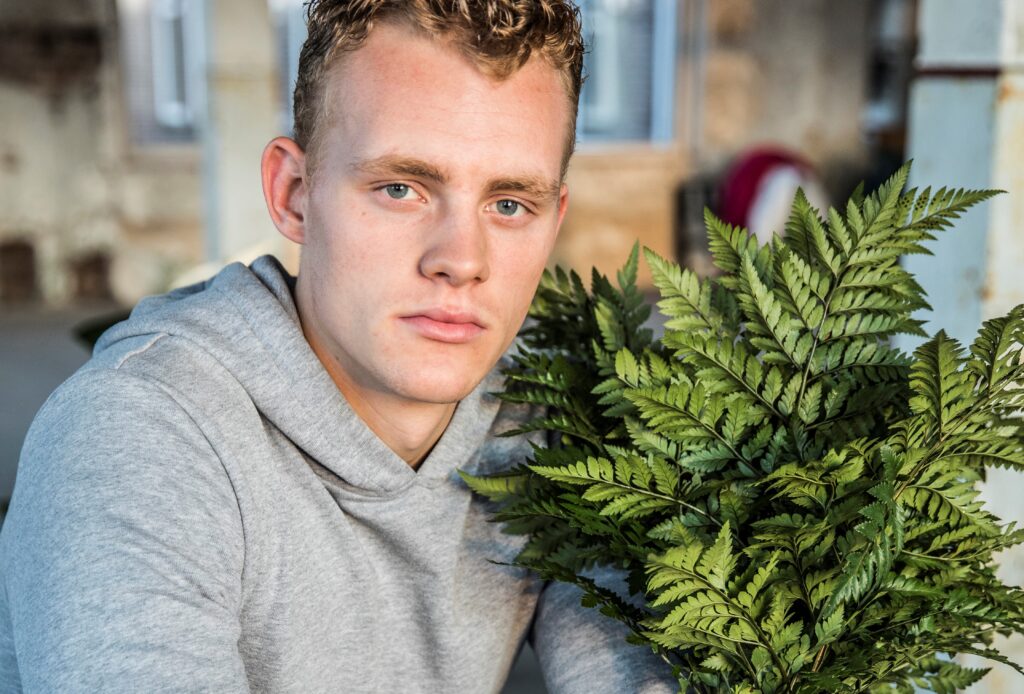 The Importance of Quality Greens for Florists

The greens in every floral arrangement are what add the wow factor to every creation, the reason being why florists are in much need of quality greens that will last longer and which have beautiful green tonalities as well. The rise of foliage in the industry has become crucial for florists to create the dreamiest green pieces. If you really think about it, greens are an essential piece of every arrangement and are never taken for granted. A flower arrangement will always look more complete with quality, beautiful greens!
Types of Greens in the Orca Green Assortment
Ensuring that excellent quality is available in a variety of sizes and packaging, including vacuum-packing, throughout the year, here's a rundown of what greens are available.
1. Beargrass
Xerophyllum tenax, often known as Beargrass, is a grass-like perennial that belongs to the lily family. Other names for beargrass include squaw grass, soap grass, quip-quip, and Indian basket grass.
The starting point is green, and the shape of the leaf reveals a lot about the end result. The grass adds movement to your bouquet's swinging tone. Folded beargrass can also be used creatively in any arrangement.
2. Aralia
Fatsia japonica, often known as Aralia, is a Japanese plant that was later cultivated in Italy and Israel. In recent years, much of the foliage has come from Central America, particularly Costa Rica and Guatemala.
Because of their unusual shape, Aralia leaves can be utilized in a variety of ways, such as a bouquet, corsage, or decorative circle. The leaves have soothing shapes that can be utilized as a bouquet collar. The options are limitless. You can let your imagination run wild!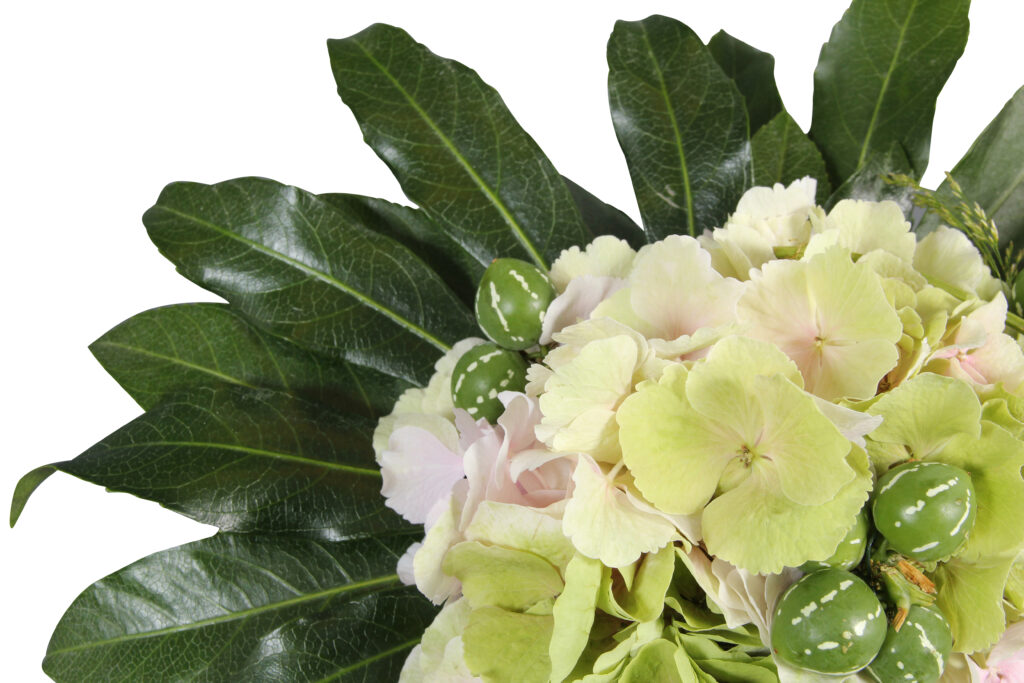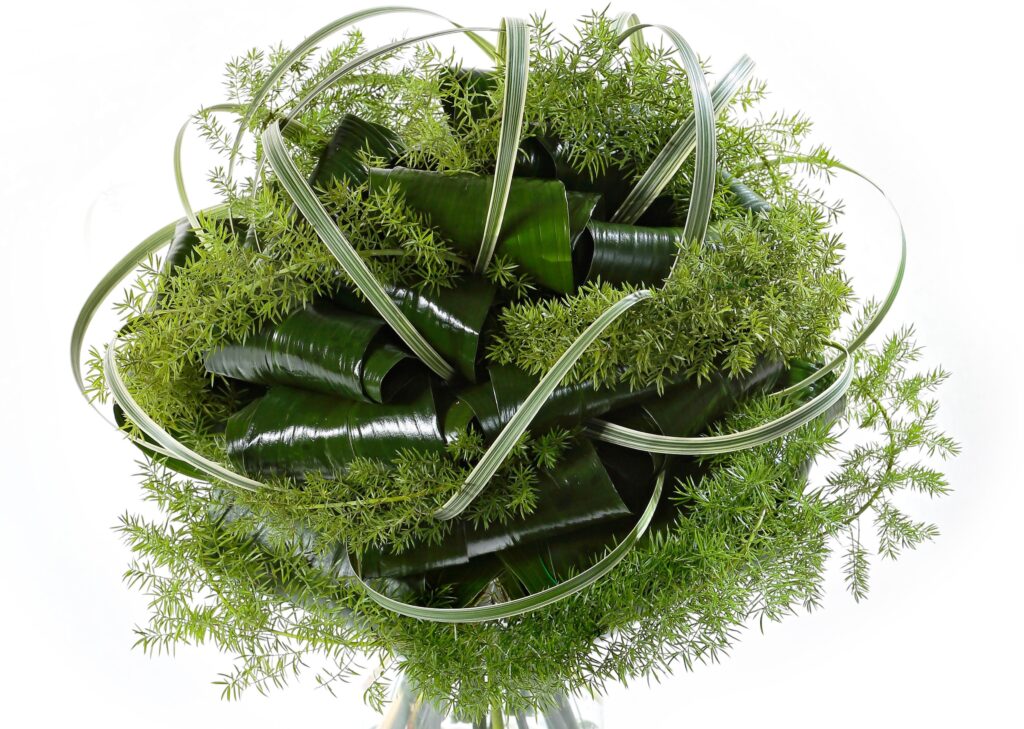 3. Chico Leaf and Teepee
Chico Jumbo is a type of Mexican Dwarf palm which is native to Mexico and Guatemala. Adomex imports this foliage mainly from Mexico, just like the next of kin Teepee.
A lace-like, romantic ambiance is created by naturally tropical flora. Chico Jumbo produces an airy impression, yielding a refined, delicate aroma. Unlike other palms, the leaf is fairly bendable, which is why it is frequently utilized around the bouquet's edge. Make a statement by surprising your customers with a sequence of feminine, delicate flowers.
4. Aspidistra
Aspidistra Eliator grows in a variety of locations around the world, including Guatemala, Florida, Italy, and Israel. This foliage is mostly imported by Adomex from Florida, Guatemala, and Italy. The name comes from the Greek word aspidion, which means 'shield'.
Creative folks with green thumbs appreciate the utilization of Aspidistra. These leaves can be strengthened with wire and are simple to fold, paste, turn, or staple to make a lovely bouquet or arrangement.

5. Galax
Galax, also known as 'Urceolata' is also known as the wall plant or beetle herb. The leaf is matt-gloss dark green with a serrated edge and forms a rosette. The plant retains its leaves during the winter and is so hardy.
Because of the serrated edges and short stems, the leathery dark green and reddish brown leaves have a circular (heart) shape and are suitable for compact arrangements and corsages. Putting these leaves together yields the most stunning results! The leaf's form creates a relaxing effect on your design.
6. Palm (Chamaerops)
Palm foliage, also known as Palmetto, is a ray of robust, hard spear-shaped leaves on a sturdy stem from the Chamaerops family. This long-lasting leaf is imported from Florida and available all year.
Use these enormous leaves to create luxuriant floral arrangements and large designs. They will be noticed everywhere.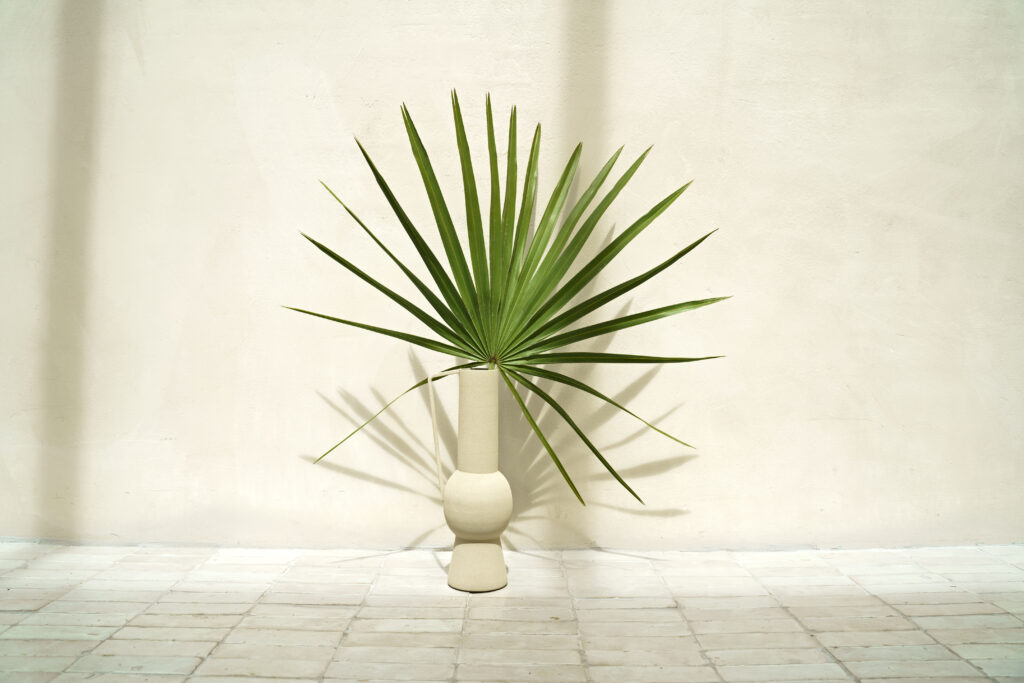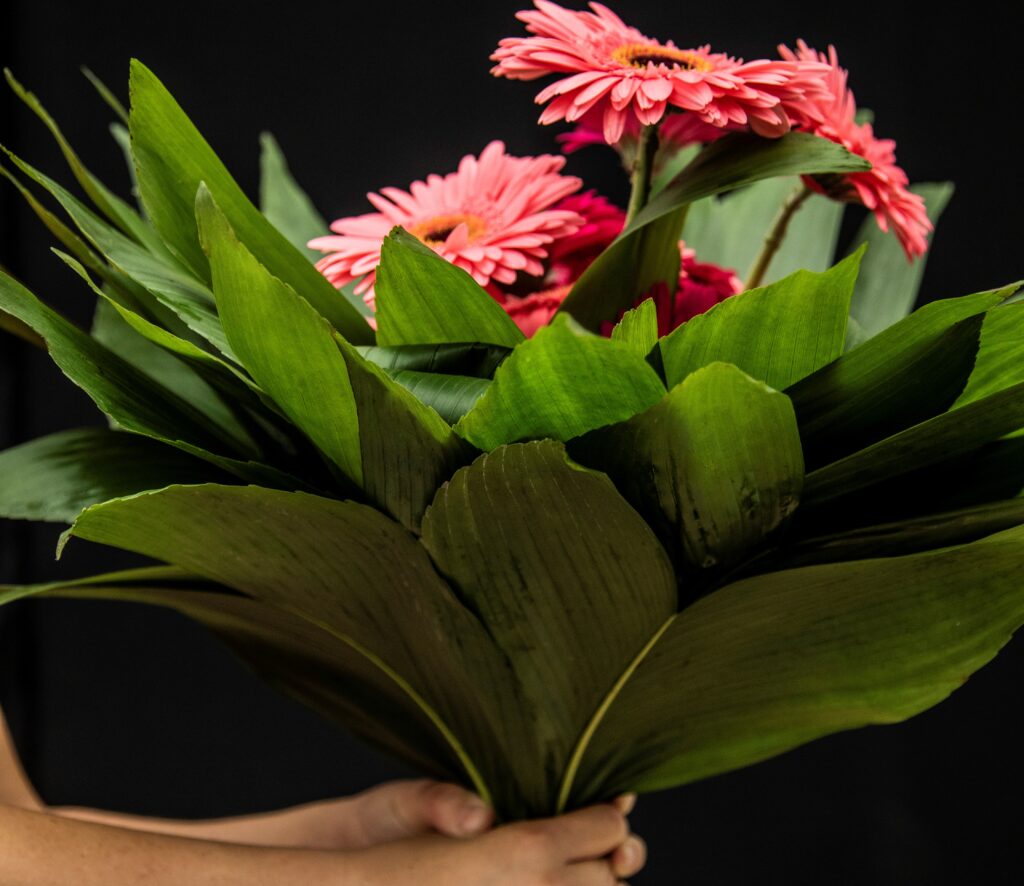 7. Phoenix Roebelinii
Phoenix Roebelinii is a common decorative plant native to Southeast Asia that flourishes in tropical and subtropical climates. It is a small to medium-sized, thin tree that grows slowly and can reach a height of 2-3 meters. This palm is also known as the 'Dwarf Date Palm'. The palm leaves are strong but flexible. It's fun and easy to use to incorporate movement into a bouquet. When you hand the bouquet away, this fan-shaped leaf moves. How lovely is that?
8. Cocos Leaf
Cocos or Fishtail, the leaf that resembles a mermaid's tail, is trucked from the forest and farms in Mexico or Guatemala to the processing shed, where all leaves are washed, sorted, trimmed, and tested for quality. They are now ready to be shipped to florists all around the world, who will create magnificent bouquets once again.
Each bouquet is surrounded by a gorgeous 'collar' of clustered coconut palm leaves. It resembles showy plumage as a rolled-up leaf. This beautiful green is quite versatile when folded and rolled.
9. Cordyline
Cordyline is a tie-shaped leaf that is available in two colors: Green Tie and Black Tie. This leaf is strong and stable. This, combined with the leaf's lengthy shelf life, makes it particularly popular among florists and flower designers.
The tropical leaf is delicate yet sturdy, lending an exotic appeal to any floral arrangement. Both Cordyline variants are available at Adomex all year.
10. Coral Fern
Coral Fern grows at the base of pine woods in South Africa's Southern Cape. It grows in a rocky area with a lot of rain, especially around the coast. Coral Fern is harvested by hand, and the selected stems are packed in the forest.
This attractive ornamental green is ideal for floral arrangements. The delicate, repeating leaf resembles a miniature tree. When you group a lot of them together, you get an attractive forest.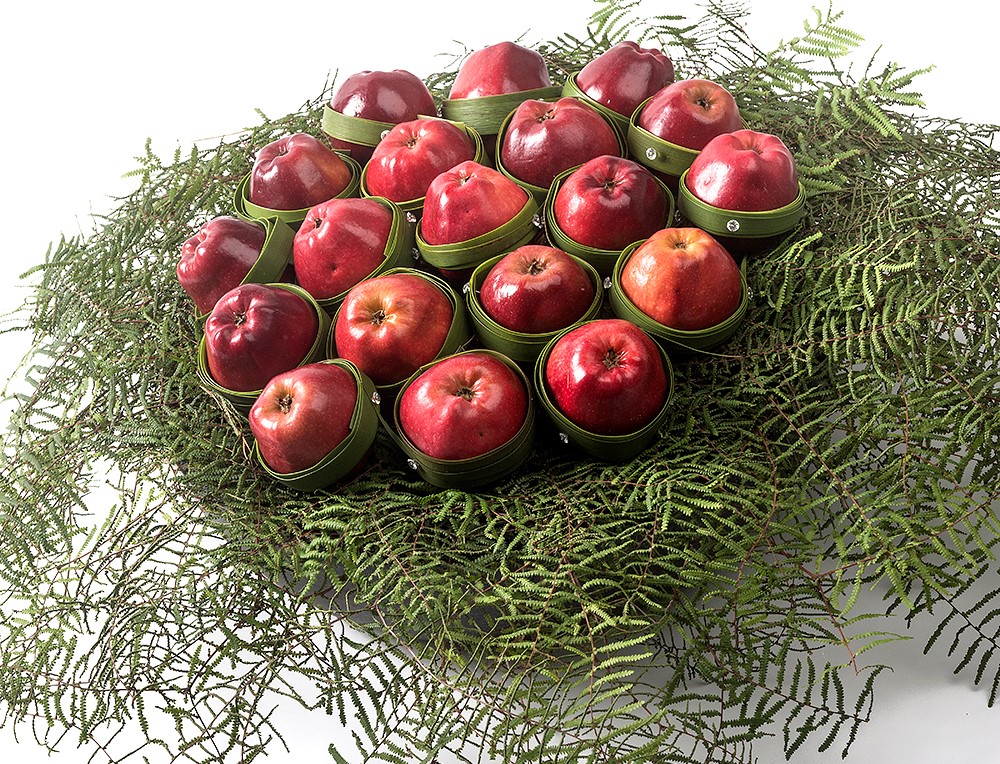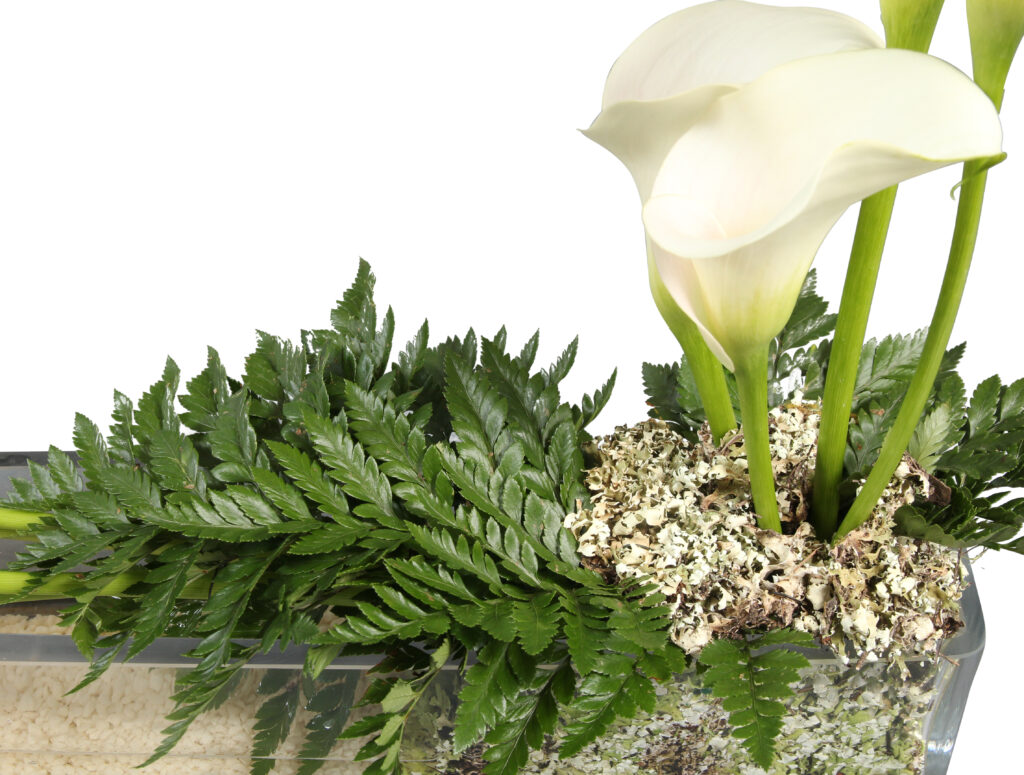 11. Leatherleaf
Leatherleaf Fern (Arachniodes Adiantiformis) is found throughout Central America and Mexico, as well as in Southern Europe. For many years, these leaves have been a staple in bouquets for florists all around the world.
Leatherleaf is a particularly robust green type that is frequently used in combination with roses as the outer edge of bouquets. Are you looking for a more energizing combination? Try Leatherleaf with callas, for example for a beautiful combination.
12. Salal
Salal gets its name from the Latin word 'Gaultheria shallon' and is distinguished by its egg-shaped green leaves with a serrated edge. Salal branches are highly popular for flower arrangements due to their lovely, matte, dark green color and toughness!
Check with your flower design to see what complements each other. Contrasts can be created in a bouquet by using thin/thick, elongated/round, and anything else that is opposing. With these greens, you can make so many various variations that will always work for you.
Worldwide Recognized Brand
Over the years, Orca Green has become a well-known name among wholesalers and florists. Adomex has developed solid ties with its carefully selected producers and suppliers, resulting in a consistent and dependable supply of high-quality products. With a worldwide selection, the Orca Green products are wild-grown and cultivated in many areas across the world, from South Africa's capes to the east and west coasts of the United States, the high and low lands of Latin America, and the green belts of Southern Europe.
Making Floriculture More Sustainable
Adomex is a member of the alliance FSI2025. The Floriculture Sustainability Initiative (FSI) is a market-driven initiative that brings together members of the international floriculture sector. Towards 2025, FSI members will continue to build on the progress made on transparency, responsible production and trade, positive impact, and improvement in the floriculture supply chain.
Exclusively Available at Adomex
Adomex, a global importer of various varieties of cut and decorating greens, is your sole supplier of Orca Green. Discover these premium greens right now to get your bouquets looking the best and most beautiful green version.